Clutch Productions' World Premiere: THE INHERITANCE OF A LONG-TERM FAULT
A new play about the power shifts women experience over time and continents.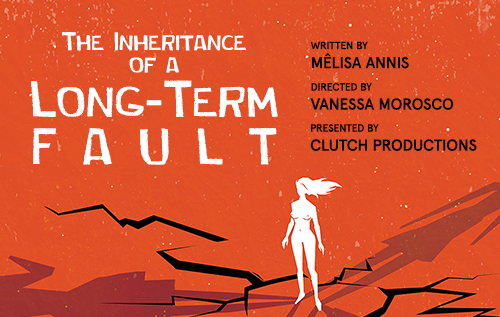 CLUTCH PRODUCTIONS
​Proudly Presents the World Premiere of
Theresa Rebeck calls Mêlisa Annis "a dazzling talent" -

Curve Magazine 
"Annis artfully shows us that changing gender traditions don't negate the fundamental mysteries and uncertainties of human relationships."

Blogcritics

about Annis'

Charlies Waiting
THE INHERITANCE OF A LONG-TERM FAULT
A new play about the power shifts women experience over time and continents.
Written by MÊLISA ANNIS
Directed by VANESSA MOROSCO
Staging and Additional Direction by MÊLISA ANNIS
LIMITED OFF-BROADWAY ENGAGEMENT
​DECEMBER 1 – 23, 2023 AT THEATRE ROW
OPENING NIGHT IS WEDNESDAY, DECEMBER 6 AT 7 P.M.
TICKETS ON SALE NOW AT BFANY.ORG
CLUTCH PRODUCTIONS is pleased to announce the world premiere production of Mêlisa Annis' THE INHERITANCE OF A LONG-TERM FAULT, directed by Vanessa Morosco, wkith staging and additional direction by Mêlisa Annis. THE INHERITANCE OF A LONG-TERM FAULT will play a limited engagement at Off-Broadway's Theatre Row (410 West 42nd Street, NY, NY 10036). Performances begin Friday, December 1 and continue through Saturday, December 23. Opening Night is Wednesday, December 6 (7 p.m.). ​ Tickets are $35 and available at bfany.org/theatre-row/shows/the-inheritance-of-a-long-term-fault/. ​ 
While presenting the keynote at a high-profile conference, Me, a successful geologist in her field, asks her peers: what is our creation story? "The Inheritance of a Long-Term Fault" takes an explosive look at the generational impact of societal structures created by colonialism, and how these original sins continue to shape our world today; physically, linguistically, spatially, and spiritually. Interrelated scenes over space and time reveal the friction between what Me wants and what she's inherited. Only a tectonic shift will allow her to hear the echoes from a mythological past, and explore new possibilities of what comes next. 
"We have been in active collaboration developing this provocative play for nearly two years, challenging each other to courageously pursue innovation – resisting the temptation to skip ahead to executing a product – inviting and adapting to the constant shifts in the current cultural conversations," remarks director Morosco. "It is nothing short of joyful to expand this circle of collaboration to include our audience."
The production stars Craig Wesley Divino*  (HAPPY BIRTHDAY, WANDA JUNE, Wheelhouse Theater at the Duke on 42nd; HINDSIGHT, Fault Line Theatre) as Josh/Man/Oliver/Others, Gina Fonseca* (WITCH, Huntington Theatre Company; OUR DEAR DRUG LORD, Zoetic Stage) as Nest, Christianne Greiert* (EVERY GOOD GIRL DESERVES FUN, Clutch Productions at Walkerspace; FOREIGN BODIES, NYTW) as Me, ​ and Gabra Zackman* (SENSE AND SENSIBILITY, Bedlam and 9 years with HUDSON VALLEY SHAKESPEARE FESTIVAL) as Gwen/Samantha/Others. 
The production features scenic design by Jessie Bonaventure, costume design by Izzy Fields, and lighting design by Elizabeth M. Stewart. Angela Baughman is the sound designer and Kristine Schlachter is the stage manager. Dramaturg by Carrie Chapter, publicity by Katie Rosin/Kampfire PR.
THE INHERITANCE OF A LONG-TERM FAULT plays the following schedule through Saturday, December 23: ​
​​ Tuesdays at 7 p.m. ​
​​ Wednesdays at 2pm and 7 p.m. ​
​​ Thursdays at 7 p.m. ​
​​ Fridays at 7 p.m. ​
​​ Saturdays at 2 p.m. and 8 p.m. ​
​​ Sundays at 3 p.m. 
Tickets are $35 and are now available online at www.BFANY.org or by calling 212-279-4200. Tickets may also be purchased in-person at the Theatre Row Box Office, 11 a.m. to 8 p.m. daily. 
Running Time: 100 min 
Website: www.clutchproductions.org
@clutchproductionsnyc 
MÊLISA ANNIS (Playwright, Staging, Additional Direction) plays have been developed and presented at and with BMG Music, Rosalind Productions, Primary Stages, Clutch Productions, Parity Productions, Rattlestick Theater, The Lark with Dorset Theater Festival at the Theresa Rebeck Writers Colony, Parsnip Ship, The New School, ESPA*Drills, The Lark, The National Arts Club NYC, The Playground Experiment, Tangent Theater, And ToTo Too Theatre Company, RAL, Colorado Springs Fine Arts Center, and The Wales Millennium Centre.​ Fit For A King was illustrated and published by Fourth Wall Magazine, Aberfan, a short play for voices, was published by Clockhouse Literary Journal.
Personal essays and other writings have been published by Contemporary Theatre Review (October 2023), The Western Mail, American Scholar Magazine, Howlround, Cara Magazine and Salon. 
TV and Commercial writing include; Jessy & Nessy (Amazon Studios & Jam Media), Trader Joe's Frequent Flyer segments (Bon Apètit), South Africa Tourism campaign (Condé Nast), commercial segments about NYC for the Accor Hotel group. ​ Mêlisa has also been a script editor on numerous TV and film projects for BBC Wales and S4C.
Mêlisa was lead writer for award-winning radio series For Spacious Skies, a twelve episode series awarded the True West Award, CO. ​ Mêlisa's short play for zoom,"Beginnings" was awarded the Spirit of The Festival Award, 2021, Ireland. Mêlisa's radio play Love Letters Home is currently in development (details coming soon).
As a director, Mêlisa has had the pleasure of working with and at; Red Bull Theater, NYC (Something in The Ground by Theresa Rebeck), Primary Stages, NYC (A Walk With Heifetz, The Clinic, A Christmas Carol), The Ambassadors Theatre Group, London (Tom & Jerry Vs Fred Quimby by James Inverne), The Arcola Theater, London (Remember the Future by Yasmine Lever), Colorado Springs Fine Arts Center CO (Matilda, the Musical - nominated for 19 Henry Awards), Athena Film Festival NYC (Lucky 13 by Denise Meyers), Shadowland Stages (Crossword Play, The Night Alive, Mystery of Love & Sex, Disgraced), Rattlestick Theater NYC (Various Readings), Clutch Productions at HERE Art Space NYC (The Worth of Water), Tangent Theater NY (Circle Mirror Transformation), Rebellious Subjects NYC (Henry V, Twelfth Night), New York University, Theater Masters, FL (Frelmetsch by Matthew Capodicasa). 
Mêlisa is a frequent contributor to the BBC, BBC Wales, BBC Radio, Radio Cymru and S4C. ​ Fun fact, Mêlisa was once a character in Welsh language soap opera Pobl Y Cwm. ​ Mêlisa also teaches at the NYU Tisch in the Dramatic Writing program. She is a proud fluent Welsh speaker. ​ 
VANESSA MOROSCO (Director) (she/her) is a New York based multi-hyphenate theatre practitioner who focuses on the intersectional spirit of collaboration through an ethical framework. As a director, she has created productions for several theatres, including the American Shakespeare Center, Harlem Shakespeare Festival, Shakespeare Theatre of New Jersey, Colorado Shakespeare Festival, Historic Cultch Theater (Vancouver), Gateway Playhouse, Playhouse on Park, The Tank, and Palm Beach Dramaworks. She is an ongoing collaborator with Clutch Productions in New York, and is deeply committed to developing new plays by women-identifying playwrights. ​ She is currently developing and directing Kaytlin Bailey's one-woman show Whore's Eye View. Vanessa represents one half of the 50/50 SHAKESPEARE PROJECT, which seeks to create gender equity in the workplace of Shakespeare's plays, and she directed the world premiere of Hamlet 50/50 at Shakespeare Notre Dame in 2023 (5050shakespeare.com). As the co-founder of iMPACT DRAMA, she consults for multinational corporations to create drama-based content for use in training and development, focusing on global diversity and inclusion, unconscious bias, power harassment, and cultural awareness. (impactdrama.net) Vanessa is a member of AEA, SDC, and holds an M.A. in Ethics from Yale University. (vanessamorosco.com) 
CLUTCH PRODUCTIONS is a nonprofit organization dedicated to creating opportunities for women artists in theatre and film. By commissioning and producing original works, Clutch provides vital creative space for women to collaborate. 
Past productions include: Every Good Girl Deserves Fun*, Bullet Catchers, and The Worth of Water* as well as the vibrant, annual empowHER Reading Series. It has also co-produced Off-Broadway with the Culture Project and provided strategic support for a feature film (currently in development).
*denotes commissioned work
# ​ ​ ​ ​ # ​ ​ ​ ​ #
Listings Information:
​ ​ ​ ​ ​ Who: CLUTCH PRODUCTIONS ​
​​ ​ ​ ​ ​ What: THE INHERITANCE OF A LONG-TERM FAULT
​ ​ ​ ​ ​ Where: Theatre Row (410 West 42nd Street, NY, NY 10036)
​ ​ ​ ​ ​ When: DECEMBER 1 – 23, 2023
​​ ​ ​ ​ ​ How: $35 and available at bfany.org/theatre-row/shows/the-inheritance-of-a-long-term-fault/. ​ 
A new play about the power shifts women experience over time and continents.