BACKLASH TO BRAZILIAN HAPPINESS: Medea's Multiracial Resilience
Conceived and Performed by DEBORA BALARDINI* based on the text of Nocturnal Daydreams by GUILHERME ZELIG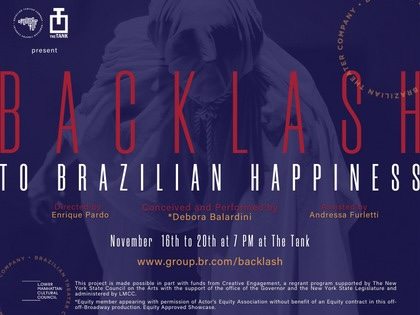 GROUP DOT BR
​Proudly Presents the World Premiere of
"Balardini and Furletti are both gifted physical performers, able to convey their characters and the crux of the scene with few spoken words. Balardini's wide eyes and even wider grin betray a character who is not only surviving but thriving under lockdown." –

Theatermania

about

Metanóia
"I found myself drawn to Debora Balardini's energized, powerful performance and was ready to commit to watching her read a telephone book or take a nap." -

Theater Is Easy

about

Inside the Wild Heart
BACKLASH TO BRAZILIAN HAPPINESS
Medea's Multiracial Resilience
Based on the text of Nocturnal Daydreams by GUILHERME ZELIG
Conceived and Performed by DEBORA BALARDINI*
Directed by ENRIQUE PARDO
​Assisted by ANDRESSA FURLETTI
LIMITED OFF-BROADWAY ENGAGEMENT
​NOVEMBER 16 – NOVEMBER 20, 2023 AT THE TANK
TICKETS ON SALE NOW AT GROUP.BR
GROUP DOT BR is pleased to announce the world premiere production of Debora Balardini's BACKLASH TO BRAZILIAN HAPPINESS, assistant directed by Andressa Furletti and directed by Enrique Pardo. BACKLASH TO BRAZILIAN HAPPINESS will play a one-week limited engagement at Off-Broadway's The Tank (312 W 36th St., New York, NY 10018). Performances begin Thursday, November 16 and continue through Monday, November 20. Opening Night is Thursday, November 16 (7 p.m.). ​ Tickets are $25 and available at GROUP.BR/backlash. ​ 
In Backlash to Brazilian Happiness, Debora Balardini ​ (Inside the Wild Heart, Group.Br) delivers a poignant solo performance, offering a unique perspective as a Brazilian-American multiracial woman navigating life in the United States. Drawing subtle inspiration from the mythological character Medea, her portrayal illuminates the inner struggles faced by a survivor of sexual abuse and societal judgments, who grapples with the pervasive feeling of being deemed 'not enough.' Through a captivating blend of movement, voice, and text, Balardini's performance serves as a powerful ode to the resilience of women, echoing the timeless themes of transformation and empowerment found in the myth of Medea, as they continually shape, deconstruct, and rebuild their identities.
The production features lighting design by Matthew Puzzelich and Tatiana Birenbaum ​ is the stage manager. Voice and sound work assisted by Jonathan Hart Makwaia. Publicity by Katie Rosin/Kampfire PR.
BACKLASH TO BRAZILIAN HAPPINESS plays Thursday - Monday at 7:00 p.m.
WIth special permission from Actors' Equity, there will be one livestreamed performance on November 19th at 7 p.m. *Performing with approval from Actors' Equity. AEA approved showcase.
Tickets are $25 and are now available online at https://www.group.br.com/backlash. Tickets may also be purchased in-person at the theater a half hour prior to the performance.
Running Time: 75 minutes 
Website: www.group.br.com
BIOGRAPHIES
DEBORA BALARDINI (Creator/Performer) With 30 + years of unwavering commitment to the arts, expression, and movement, Debora Balardini has traveled beyond craft to her calling as a performer, educator, director, and producer globally. With creative and cultural career roots that began in her native home of Brazil, Debora has traveled as a performer, director, and educator in Japan, Argentina, France, and Chile before making her home in New York City. Debora has fostered a growing vision of traditional and experimental exceptionalism from voice-overs to theater acting, choreographic theatre direction, and production, from cabaret to variety, from feature films to short films. She is one of the co-founders of the award-winning Group Dot BR – NY's only Brazilian theater company. In the realm of avant-garde performance, she participated in the opera "U" with the Klingon Terran Research Ensemble from Holland held at the Watermill Center residency program and Tropiezos, directed by Enrique Pardo in Santiago Chile at Universidad Mayor. Debora is a 2017 SheRocks Art Innovator of the Year Award winner, accepting the honor in Washington, DC and is a recipient of the 2019 Social Impact and Innovation in Arts award at the Essence of a Boss conference where she received an official proclamation of the United States National Council of Women (NCW) / US) in Consultative Status with the United Nations Economic and Social Council for its humanitarian work dedicated to the empowerment of women. With a playful range that precedes her, she also enjoyed being the former voice of Caillou and Caillou's Mom voice for the Portuguese version of the cartoon Caillou, an award-winning television series about an inquisitive four-year-old. Debora served on the Board of Directors at the League of Professional Theatre Women and is a member of several organizations including Americans for the Arts, SAG-AFTRA, AEA Actor's Equity Association, Yoga Alliance, and the Alliance of Resident Theaters (The A.R.T. NEW YORK). Currently, Debora teaches voice with a focus on Roy Hart Extended Range Technique and has a part-time practice on Integrative Therapy with a focus on body language. www.deborabalardini.com
ANDRESSA FURLETTI (Assistant director) is a Brazilian multidisciplinary artist based in NY. She is the artistic director of Group Dot BR, NY's Brazilian theater company (www.group.br.com). Her artistic works include acting, performance art, ​ visual arts, and filmmaking and her inspiration comes from her degrees in Biology, Filmmaking, the acting conservatory training at Stella Adler Studio, and many workshops such as the Mitu Artist Intensive in Bangkok and the Watermill Summer Program coordinated by Robert Wilson. Andressa's diverse background produces works that often use different types of media to portray things our eyes can't see such as patterns, feelings, micro and macro universes. She draws inspiration from biology, theater, film, ancient concepts, technology and social and political issues and is interested in movement, and bending the space-time perception. 
ENRIQUE PARDO (Director) was born in Lima, Peru, in 1946, in a ​ well-established Spanish-creole family with strong francophile connections. He spent his childhood in Peru before moving with his family to Europe, passing his French baccalauréat in Paris, studying law and economics in Madrid, graduating in painting from Chelsea School of Art, London, and teaching Fine Arts at Goldsmith College (University of London). In the 60's he was exposed to theatre and to working with Roy Hart and the Roy Hart Theatre. As well as performing and directing, he started teaching voice within the "Roy Hart" model. Enrique stopped teaching for some years, and started the long dialogue with psychotherapists that led to his meeting with James Hillman and Rafael Lopez-Pedraza, as well as Charles Boer, Paul Kugler, Ginette Paris, Nor Hall, Sonu Shamdasani and the archetypal psychology circle that was to inspire Pantheatre Company. Currently he is back to teaching in Paris as well as the Roy Hart Artistic Center in Malerargues in the South of France. 
GUILHERME ZELIG (author of Nocturnal Daydreams) is a Brazilian playwright and writer. He lives in São Paulo and has published his works in Brazil, the USA, Portugal among other countries. His first two plays are Nocturnal Daydreams and Truths and Untruths. He's working on his novel The Invisible Threat and on his new play More Bitter Than Devil's Spittle which will be launched and published in 2024.
GROUP DOT BR's mission is to present the "calor" and diversity of Brazilian culture through the performing arts. By using avant-garde, physical, choreographic, and contemporary theatre as tools, Group Dot BR engages a multicultural community with a forward-thinking approach to its "presencial" and online programs. As the longest-operating Brazilian theatre company in New York, it supports artists by creating a bridge for exchange beyond borders and holds up Portuguese as a heritage language.
Founded by Andressa Furletti, Debora Balardini and Thiago Felix, the company started in 2011 with a public reading of the play Cerimônia do Adeus by Mauro Rasi. In 2012 Group .BR produced A Serpente (The Serpent) by Brazil's most known and controversial dramaturge, Nelson Rodrigues with sold-out performances and a nomination to the 2012 Brazilian International Press Awards. In 2013, Infinite While It Lasts, Group .BR's first devised work based on the life and work of Brazilian poet and composer Vinicius de Moraes landed on the bohemian bar Nublu in East Village. A second run of the show happened in 2014 held at Studio 151 for four weeks. The show was nominated to the 2014 Innovative Theatre Awards for Outstanding Choreography/Movement and to the 2014 Brazilian International Press Award. Inside The Wild Heart, an immersive theatrical experience based on the life and works of the Brazilian Jewish writer Clarice Lispector had a successful five-week run at the Immersive Gallery, in Williamsburg in 2016, and another five-week run in 2018 at the Aich Studio, a three-story house in Manhattan. The show had great reviews and received four nominations and earned Andressa Furletti an award for Best Actress at the 2017 Brazilian International Press Award.
Other than its awarded productions, the company offers a variety of acting and dance workshops, readings, and signature events such as the theatrical Brazilian dance party Opa!, the intimate Pão de Queijo Brunch and the Clarice's Hour (Hora de Clarice) in partnership with Moreira Salles Institute (Instituto Moreira Salles), and the Happy Hour Online with readings and conversations about Clarice Lispector in honor of her centennial.
# ​ ​ ​ ​ # ​ ​ ​ ​ #
Listings Information:
​ ​ ​ ​ ​ Who: GROUP DOT BR ​
​​ ​ ​ ​ ​ What: BACKLASH TO BRAZILIAN HAPPINESS: Medea's Multiracial Resilience ​
​ ​ ​ ​ ​ Where: THE TANK (312 W 36th St., New York, NY 10018)
​​ ​ ​ ​ ​ When: NOV 16 - NOV 20 @7 p.m.
​​ ​ ​ ​ ​ How: Tickets are $25 and available at GROUP.BR
In Backlash to Brazilian Happiness, Debora Balardini delivers a poignant solo performance, offering a unique perspective as a Brazilian-American multiracial woman navigating life in the United States.