I Put a Spell on You: The Witches Era raises over 150k for Ali Forney Center
Missed it? Want to see it again? Stream this weekend on Broadway On Demand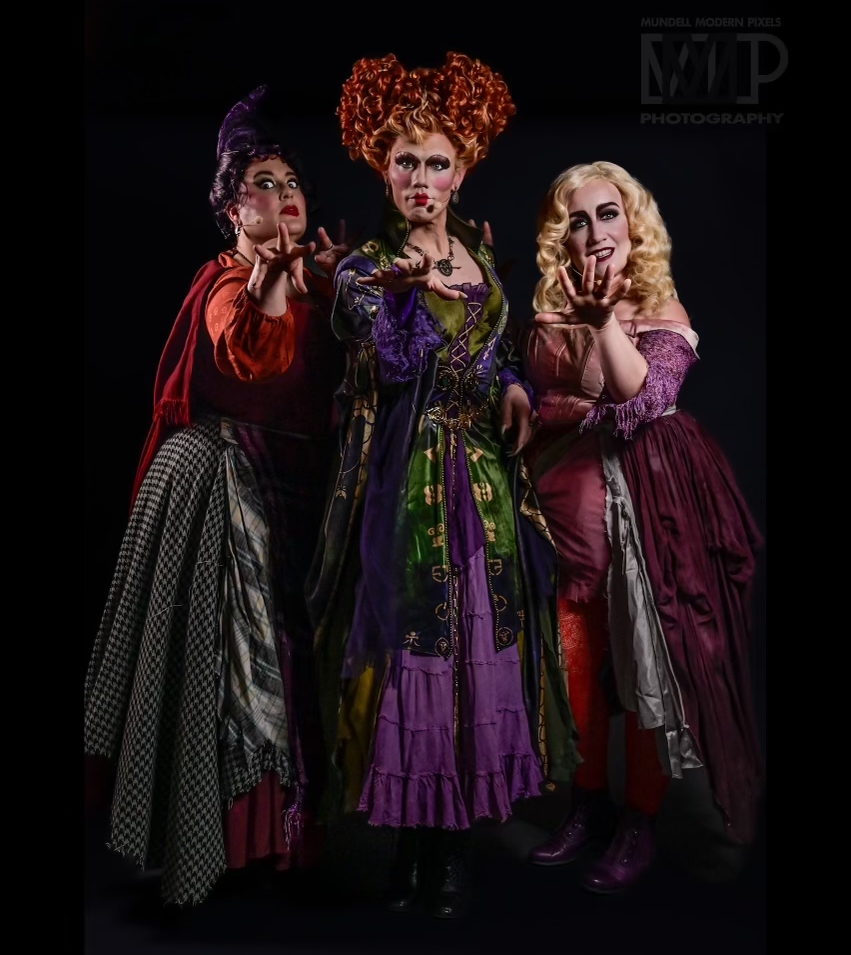 The Sanderson Sisters bewitched Sony Hall as part of Jay Armstrong Johnson's annual Halloween concert-meets-party I Put a Spell on You: The Witches Era, presented by Jay Armstrong Johnson and Kampfire Films and benefiting Ali Forney Center. Broadway's biggest Halloween event once again played to a packed standing-room-only crowd last night, October 23, and now audiences can stream it on Broadway on Demand Halloween weekend, beginning at 7 pm Eastern on Saturday, October 28, 2023.
Currently, the event has raised over 150k for the Ali Forney Center and is still fundraising through the stream and the Spook-a-thon.
In their search to find beauty, youth and immortality, the bewitching and beloved Sanderson Sisters return from the dead and gather their most famous friends to help them lure the children of New York. Tickets for Broadway on Demand are $35 and available at https://www.broadwayondemand.com/events/i-put-a-spell-on-you-the-witches-era.
Production Photos by Thomas Mundell | Mundell Pixells are available here.
​The complete show order and cast list are at IPASOY.live.
​Videos from the event will be available shortly, ​ here.
Johnson returns as Winifred Sanderson with Allison Godleski and Amanda Williams Ware as sisters Sarah and Mary. Also appearing are Tony Award Nominee Justin Cooley (Kimberly Akimbo), DeMarius Copes (Some Like it Hot, Mean Girls), Drew Gehling (Waitress, Almost Famous), Tony Award Nominee Robyn Hurder (Moulin Rouge!, A Beautiful Noise), recording artist Mila Jam, Karma Jenkins (The Time Traveler's Wife),  Zachary Daniel Jones (Wicked, Beetlejuice), reigning SIX Queen Taylor Iman Jones (The Devil Wears Prada), Ashlyn Maddox (Parade), Tiffany Mann (Be More Chill), RuPaul's Drag Race Season 15's Marcia Marcia Marcia, Tomás Matos (Fire Island, Diana The Musical), Maddox Martin, Julia Mattison (Death Becomes Her), Jake Pedersen (Wicked, Parade), Meghan Picerno (The Phantom of the Opera), Kathryn Priest, Ryann Redmond (Frozen, Once Upon a One More Time), Benji Rivera (New York, New York, Aladdin), Heath Saunders (Company), Talia Suskauer (Wicked, Be More Chill), Jackson Teeley (Parade), Salisha Thomas (Once Upon a One More Time), Connor Lyon is the standby for Sarah Sanderson, and many more spooky surprises!
I Put a Spell on You: The Witches Era is executive produced by Jay Armstrong Johnson with the executive producer committee including Max Clayton, Sean Cocchia, Todd Donovan, Meg Fofonoff Art Lab Productions, Nicholas J Kaiser, and Andy Jones, who is also general manager with Baseline Theatrical. The show is produced by Katie Rosin, written by Johnson, and directed by Ahmad Simmons, with music supervision by Will Van Dyke, production management by Sean Gorski for Hudson Theatrical Associates, and production stage management by Julie Devore. ​ ​ 
The associate director and supervising choreographer is Michael Anthony Sylvester, assistant choreographers are Karma Jenkins and Erin Lazzaro and features choreography by Mike Baerga, Laya Barak, Eamon Foley, Lili Froehlich, Jay Armstrong Johnson, Reed Luplau, Tuan Malinowski, Sarah Meahl, Justice Moore, Mishay Petronelli, Sydnie Roy, Kellen Stancil, Michael Anthony Sylvester, and Jason Williams.
The creative team includes costume design and art direction by DW, associate costume coordinator Taylor Barnett, costume supervisor Kelsey Bueger, costume designers include Brian Hemesath, Sarah Dixey, makeup design by Kyle Krueger, key makeup by J Guerra, Alcone Company brand rep Melanine Navoa Dela Rosa, props designed by Andy Diaz, video design by Caite Hevner with additional video design by Jamie Kiliany, sound design by Josh Liebert, lighting design by Andrew Garvis, head SFX by Jeremy Chernick, associate SFX by Kaita Carmichael, hair department lead by Earon Chew Nealey, additional wigs by Bobby Clifton Zlotnik, BTS videography by Roberto Arajuo, house photography by Thomas Mundell, and Wellness consultant Molly KernsThe video team is helmed by Catriona Rubenis-Stevens, with videography by Jake Primmerman, Alex Dzialo, Haven Houston, editing by Tessie Tokash, and sound editing by Michael Barry, Zoe Prescod and the team at C5. Ashton Pickering is the stage manager, Joe Hornberger is the assistant to Jay Armstrong Johnson, the social media team includes Tessie Tokash and Taylor Joseph Rivera, and additional producer assistants include Emily Ballou, Eli Tokash, and Alexis Welch.
The dance ensemble includes David Alea, Nycole Altchiler, Laura Aronoff, Hugo Brument, Delaney Burke, Emma Cook, Natalie Rose Copeland, Anakeiry Cruz, Justin DeParis, Zachary Eisenberg, Tom Feeney, Zachary Flores, Lili Froehlich, Pedro Garza, Cassandra Gauthier, Jules Geiss, Jada German, Cam Gradel, Erin Joy Grgas, Rachel Grinde, Markelle Grutch, Anna Guerra, Niara Hardister, Abbey Hunt, Brittany Jenkins, Will Jewett, Dainique Jones, Anjali Kanter, Maya Kitayama, Erin Lazarro, Grace Leieux, Giuseppe Little, Sam Lobel, Alexa Magro, Kelly McMillan, Justin Mock, Nick Nazzaro, Natalie Occhino, Shane Taylor Pretty, Gabriel Reyes, Kristin Roa, Aliya Rose, Olivia Schuh, Jamal Shuriah, Christopher Tipps, Ahren Victory, Jason Wells, Jon Yepez, and Cole Zieser. 
Lighting, Sound and Video Gear provided by Production Resource Group, Special effects equipment provided by J&M Special Effects. Props by BB Props.
Sponsors include Abracadabra, Alcone, American Airlines, ​ Bra Tenders, ​ Broadway Cares/Equity Fights AIDS, Broadway On Demand, ​ Capezio, The Costume Studio, DIG., Euphoria Studios, Hudson Scenic, Open Jar Studios, Pearl Studios, Places Please, ​ Redwood Theatre Company, Schmackary's, ​ Shimmy and Tom Team, Sony Hall, and Vita Coco.
Broadway on Demand (BOD) In 2020, Broadway Licensing Global launched the Emmy® Award-nominated streaming platform Broadway On Demand, offering exclusive theatrical content, interactive events, and original programming projected to reach well over 200 million households by 2023. Additionally, Stageworks Productions, the original live stage content creation arm dedicated to the development of innovative, theatrical intellectual properties, has developed several world premiere musicals that have been produced in over 90 countries. In all, the combined force of the Broadway Licensing Global family of imprints continues to grow, with a singular goal to make everyone in the world a theatre person.
The Ali Forney Center (AFC) is the nation's largest and most comprehensive organization dedicated to protecting LGBTQ youth from the harms of homelessness. Each year AFC sees over 2,000 young people who are kicked out of their homes due to homophobia and transphobia. 90% of the young people we see state religious beliefs as the leading cause of their homelessness. ​ A Staggering 95% of our clients are individuals of color largely comprised of Black and Latino communities. Nearly half of these young people come to NYC from across the country, mainly the south, fleeing homophobic homes, and communities. ​ Due to the current political climate, we have experienced a 20% increase in the number of youth fleeing their homes from these states. 
Our programs are designed to help young people overcome the traumas of homelessness and family rejection through medical and mental health services, and substance abuse treatment. Simultaneously, homeless youth are placed in one of our 19-site-scattered housing program. Including the Bea Arthur Residence, which opened its doors in 2018 in memory of one of our first celebrity supporters. 
Once stabilized, housed, and engaged in therapeutic care we engage young people in specially developed career and educational services designed to engage these youth in completing high school, and moving on to higher education, and credentialing programs. These services also include career placement and skills development through onsite programs and job readiness. 
As the largest and longest-running agency doing this work, we support smaller organizations and groups of activists that aim to support similar populations. Through capacity building and conferences, we expand our reach across the United States and throughout the world. www.AliForneyCenter.org
# # #
Photos by Thomas Mundell | Mundell Modern Pixells