When Jesus Divorced Me - one week only at the 36th Street Theatre
Every divorce begins with a love story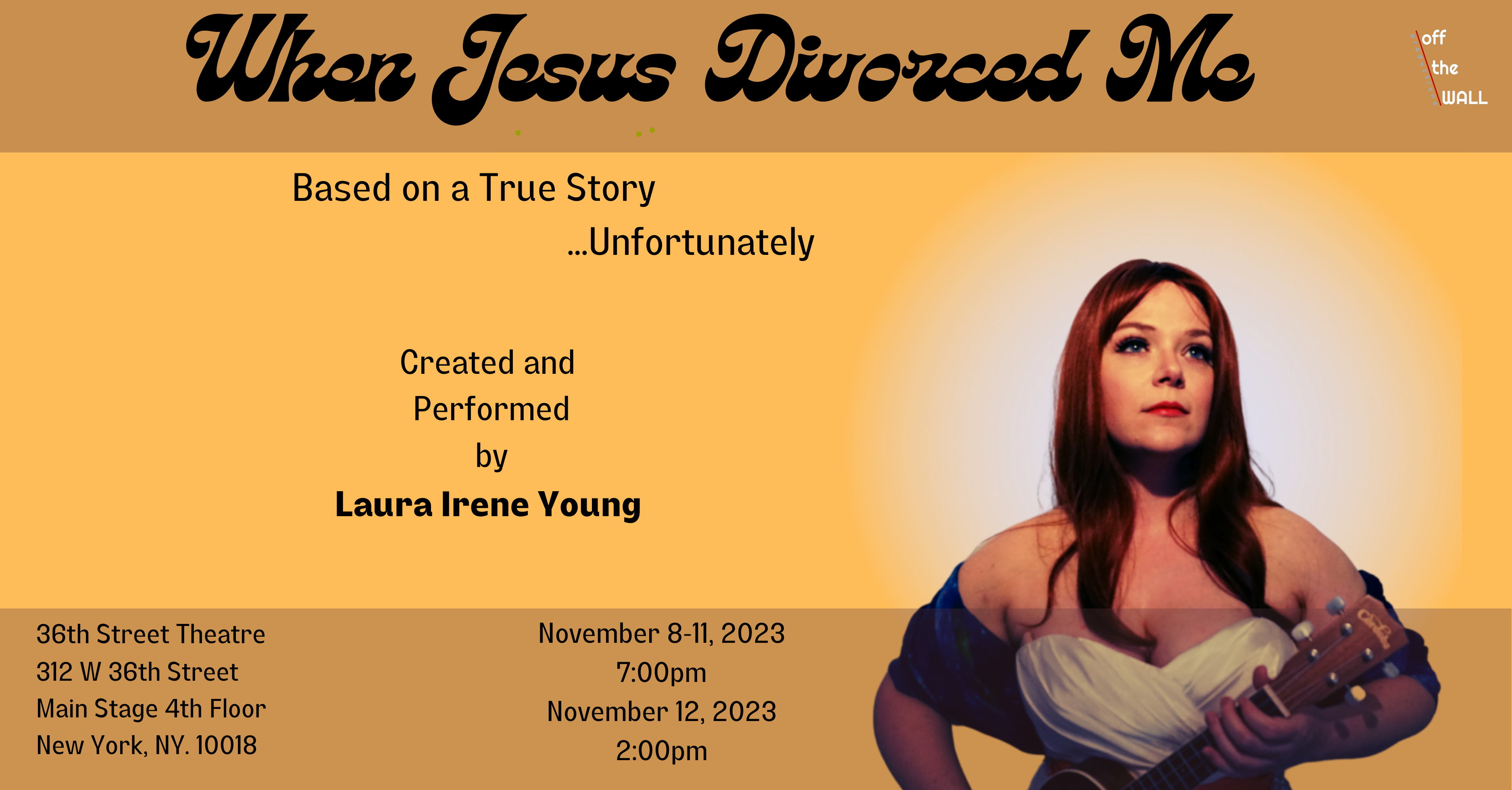 OFF THE WALL PRODUCTIONS
​Proudly Presents the New York Premiere of
"A cleverly poignant, one-woman show…This cathartic expedition of self-doubt and self-discovery is touching and quiet, much like the ukulele that serves as a good portion of her accompaniment." –

On Stage Pittsburgh
"Young's show is part standup, and part folk concert…[it] is a surprise. It's a wonderfully uplifting tale about Young at her lowest moments, but from the depths of despair she reaches the heights of joy and the audience goes right along with her." –

burghvivant.org
WHEN JESUS DIVORCED ME
Every divorce starts with a love story
Created by and Starring LAURA IRENE YOUNG
Directed by ALLISON M. WEAKLAND
ONE-WEEK LIMITED OFF-BROADWAY ENGAGEMENT
​|IN CONJUNCTION WITH #UGLYCRY
​NOVEMBER 8 – NOVEMBER 12, 2023 ​
​​ 36TH STREET THEATRE
OPENING NIGHT IS FRIDAY, NOVEMBER 10 AT 7 P.M.
OFF THE WALL PRODUCTIONS is pleased to announce the world premiere production of WHEN JESUS DIVORCED ME, directed by Allison M. Weakland. WHEN JESUS DIVORCED ME will play a one-week limited engagement at Off-Broadway's 36th Street Theatre (312 W 36th St, 4th Floor) in conjunction with #UGLY CRY. Performances begin Wednesday, November 8 and continue through Sunday, November 12. Opening Night is Wednesday, November 8 7 p.m.). ​ Tickets are $25 and available at https://www.ticketor.com/carnegiestage/tickets/when-jesus-divorced-me-260887. ​ 
Every divorce starts off a love story.... and here is this one. These two actors became friends during a summer in Ohio. A simple summer stock contract, after meeting online through mutual friends created a quick friendship. That friendship turned into love. They helped each other with monologues, audition packages, write shows, and travel to different cities for auditions and contracts. They eventually got married. The bride was religious and the groom was not. The groom went to an audition for a Christian Theme Park and was cast in all of their shows, including the crucifixion of Jesus. The bride was excited to see her husband slowly become religious, until...he left his bride for an actor playing Mary Magdalene. You may have heard of her. 
The production features scenic design by Natalie Rose Mabry, and lighting design by Jen Leno. Shannon Knapp is the sound designer, Juliette Louste is the technical director and Erika Cuenca is the stage manager. Publicity by Katie Rosin/Kampfire PR.
WHEN JESUS DIVORCED ME plays the following regular schedule through Sunday, November 12: ​
​​ ​ ​ ​ ​ Wednesdays at 7 p.m. ​
​​ ​ ​ ​ ​ Thursdays at 7 p.m. ​
​​ ​ ​ ​ ​ Fridays at 7 p.m. ​
​​ ​ ​ ​ ​ Saturdays at 7 p.m. ​
​​ ​ ​ ​ ​ Sundays at 2 p.m. 
Tickets are $25 and are now available online at https://www.ticketor.com/carnegiestage/tickets/when-jesus-divorced-me-260887.
Running Time: 75 mins
Website: https://www.insideoffthewall.com/when-jesus-divorced-me
BIOGRAPHIES
LAURA IRENE YOUNG (Playwright) has been a writer, director, and actor for many years. Favorite acting credits include Julie in After Miss Julie, Marian Paroo in The Music Man, and Lorraine in Bubble Boy. A lover of odd contracts, Laura Irene Young also performed as a jellyfish, in an Amish Musical, and as a zombie apocalypse survivor. ​ Laura Irene Young has co-directed the 2022 season of Hershey Park Dark Nights and directs a local elementary school musical featuring over 125 children every year. She has written a children's book series, The Dapper Adventures, based on her dog. Dapper teaches kids how to live with anxiety and still go on adventures. Laura is currently writing a few more shows that will soon see the light of day. www.lauraireneyoung.com 
ALLISON M. WEAKLAND ​ (Director) made her New York City debut in the fall of 2011 when she directed Take Two Aspirin and Call Me in the Morning for The Manhattan Theatre Source's Estrogenius Festival. She is thrilled to return to off the WALL Productions after directing Not Medea in 2019. In the greater Pittsburgh area, she has directed for many companies including South Park
Theatre, Old Schoolhouse Players, Little Lake Theatre, Throughline Theatre Company, and Prime Stage Theatre. Allison had the wonderful opportunity to assistant direct the Broadway hit Seminar and the world premiere of Hope and Gravity at City Theatre. Allison earned her BA in Performance and Technical Theatre from Seton Hill University.
OFF THE WALL PRODUCTIONS' mission is to foster a compassionate community, ensure fair wages for artists, and promote the appreciation of diverse arts. We provide a creative home for live theater, dance, music, and comedy. We empower women theater artists to collaborate and innovate as playwrights, directors, technicians, and actors, nurturing their growth and new works.
6 Annual Awards by the International Center for Women Playwrights (ICWP) honoring theaters that produce plays written in equal measure by women and men. 
76 productions since 2007, ​ mostly regional, local and world premieres. ​
​Now producing new plays to Premiere in Pittsburgh/New York/Iceland
# ​ ​ ​ ​ # ​ ​ ​ ​ #
Listings Information:
​ ​ ​ ​ ​ Who: OFF THE WALL PRODUCTIONS
​​ ​ ​ ​ ​ What: WHEN JESUS DIVORCED ME
​​ ​ ​ ​ ​ Where: 36th Street Theatre, 312 W 36th St, 4th Floor
​​ ​ ​ ​ ​ When: November 8 - November 12 ​
​​ ​ ​ ​ ​ How: Tickets are $25 at https://www.ticketor.com/carnegiestage/tickets/when-jesus-divorced-me-260887
Every divorce starts with a love story.